Bare Elf for Legends of Aranna and Dungeon Siege II
This mod started by accident. I was trying to make new meshes and animations for the Cat Mansion girl, but I could not modify the gmax ASP importer to get a usable skeleton. It would always twist bones (and probably change their order, too), so the resulting mesh or animation would work on its own, but be incompatible with the original.
One experiment I tried was to adapt the mesh to fit a working skeleton, first the farmgirl, and then the Lara Croft one (with the breast bones for extra jiggle). The down side was that it didn't look like the CM girl any more, but the up side was that it looked like a perfect Bare Elf!




Well, not quite perfect. When I sent some screenshots to Lili Wells (the real bare_elf) for her approval, she actually complained that her breasts were too big! So I made them a little smaller and less pointy, and reduced her chest so they'd stay "significant". Not too drastic, and she still looks great!

The first file I sent her just had a single mesh, a set of DS1 animations, and no armor meshes at all (appropriate for a bare elf). Lili decided that boots and gloves were permissible, and I found that the skrit I was using to drop the unequippable equipment wouldn't function without something being put on before it could be dropped, so I needed a "null" mesh as a placeholder for each piece of armor. I ended up having to make meshes for boots, gloves, helmets and armor anyway, although most are just clones of the bare ones with an extra hidden poly or two to take the armor texture and keep the engine happy. I did convert the CM heads for her at this time.
Next was a template rewrite and a few other gas updates to make a DS2 version. At this point I didn't have the two extra sets of animations for dual-wield and thrown weapons, but I could load her into DS2 (using Sharkull's invaluable "My Test World" map) and check her out with all the DS2 equipment. That showed me I needed more glove and boot meshes, so I cloned those and re-mapped them to suit the DS2 textures.








Next I made a new hairstyle (a braid) and a minimal set of the missing animations, so she'd be "complete" for DS2.
The latest iteration adds a kick to her unarmed repertoir, and a second dual-wield animation (DS2-only) for a bit of variety.
Lili in Halloween Special
A diversion to the project is the addition of Bare Elf to HS. My excuse is that Charietto started the process by putting in the "Summon Dog " spell and all I did was follow his lead. So now the Bare Elf has animations for guns and chainsaws, and is getting really dangerous!
That meant providing an HS-specific template, so there's now a fourth version of a BE mod. That process also showed up a few flaws in the animations, boots and gloves, so the other files get a refresh to match.
Her very own map
When Lili went off rescuing critters from the California wildfires, she described a scene very similar to the burned forest of Broken World. In addition, while she was gone, Charietto and I made the HS siegelet based on horror movies, and for that I created a chainsaw and a few other items, such as a horse (Red himself). So I found myself with all the pieces to make up a recreation of her adventures in SoCal.
The plan at present is to make it a pure puzzle, with no combat. The player will have to find all the creatures lost in the forest, on the way collecting keys to locked doors, tools to clear fallen trees, gas for the chainsaw, etc. I plan on using a kiddy-friendly version of Lili, with her succulent bits covered up, so that anyone can play it.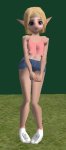 ---
Change history
The latest versions are always at Bare Elf for Legends of Aranna and Bare Elf for Dungeon Siege II, and now Bare Elf for Broken World
| Version | File date | Changes |
| --- | --- | --- |
| 0.0 | ??? | Original ds1-only version. No armor meshes. |
| 0.1 | ??? | LoA and DS2 versions. Boots, gloves and null armor and helm meshes |
| 0.2 LoA | May 9th, 2007 | Extra heads. |
| 0.2 DS2 | May 12th, 2007 | Extra heads, fs9/10 animations |
| 0.3 | May 14th, 2007 | Braid hairstyle, extra animations |
| 0.4 | May 15th, 2007 | Fs6 run animation changed |
| 0.5 | June 2007 | Glove and boot changes |
| 0.6 | Sept 19th, 2007 | Neck stitching, cestus fix |
| 0.7 | Mar 7th, 2008 | Character camera change for BW |