Halloween Special
This project combines some old material by Omniscient Collosus, Iarus, Witness, Charietto, and myself.
The guns are added to the game by using Witness' subanimation skrit to provide additional support for attack, fidget and run animations for the three types of gun - pistols, sub-machine guns, and rifles. Because I decided to add the guns to the fs7 stance (crossbows/minigun) there was a small change needed to select_attack.
Here are a few screenshots of the fidgets; hers


and his

Iarus had made some cool shades for the dude, so I had to adapt them to her, too.

And a whole bunch of extra items were adapted or made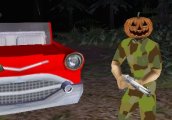 I had previously made a number of items that were used in Abstraction, which I'd intended to be used around a pool. The pool was never made, as there wasn't room for it, some were placed near the beach, and around the SQ's lounger on the roof of the castle. I've added a few more beach items and new textures, and we used them in Malibu along with a few animations (static poses, really) for babes on the beach.
Because the girl's shape is not quite right for a bikini, I also made some new armor meshes - types b2/3 - so she'd fit better in a swimsuit.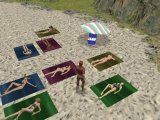 Gymnasium equipment was produced to give us a location for Norman Bates. (We couldn't really use a Motel, and wanted more room in the shower.) It includes the animations for the people using the stuff, and npc templates for them.




---
Since Dog got into the act, Red has to follow, so a horse mesh has evolved from the packmule, with its own set of animations. He's seen here with dog assisting our heroine, who is just out of the picture, chainsawing a werewolf.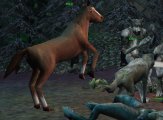 The original version of his texture was done by guesswork, and looked like this

Only his right front foot and tail needed a colour adjustment.
The beach where the main group of blobs appear has a lifeguard, which gives me the chance to finish off making Pammie.

Behind you!
---
Made some tuxedos and ball gowns for a planned addition to the siegelet. Somebody didn't read the invitation properly!